Satisfy your craving for adventure!
"Far from ordinary" best describes the Uintah Basin. Vernal and the surrounding area offer a wide range of recreational activities for an even wider range of skills. When it comes to creating fun in the great outdoors, choose your own adventure! Want a day on the slopes? We have miles of world class hiking, biking, horseback riding or ATV trails. Need a day at the beach? Go boating, jet skiing, water skiing, fishing, or incredible white water rafting on the Green River. Want to try a little Golf? Dinaland or Roosevelt Golf course will provide pure relaxation on their beautiful green fairways as the perfect answer.
Dinosaurs are not the only attraction that Dinosaurland has to offer. With activities like camping, hiking, biking, boating, swimming, rafting and exploring petroglyphs and museums, Dinosaurland has an adventure for everyone. Visit www.dinoland.com and let the adventure begin.
Vernal serves as the gateway to unlimited outdoor adventures just a short drive away. So what will you do on your visit to Vernal? Don't delay. Make the Uintah Basin your adventure destination!
---
Great Outdoors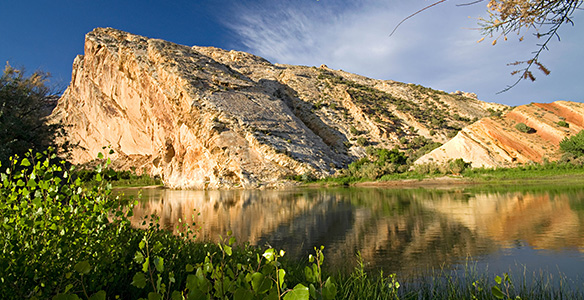 Split Mountain
Nestled in one of the most beautiful mile high valleys in the world surrounded by the High Uintah's, you will find Vernal, Utah. Vernal is surrounded by some of the most beautiful scenery in the country, including the Book Cliffs, Flaming Gorge, and Split Mountain. With a plethora of outdoor recreation choices, Vernal has something for everyone. The area offers world-class fishing, rafting, four-wheeling, cross country skiing, ancient Fremont cultures, and rodeo's. Regardless of your preferred outdoor recreation activity, you won't be dissapointed here.
Camping and Trails Hiking, Mountain Biking, Horseback Riding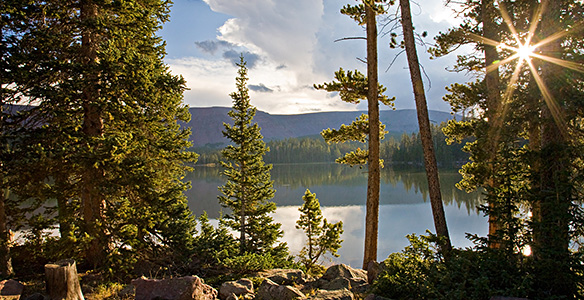 Spirit Lake
Nestled high in the Uintah Mountains you'll find a perfect spot to camp and enjoy the great outdoors. Enjoy getting back to nature while you roast a marshmallow over a fire or enjoy the scenery, plants and animal watching. Whether you enjoy a staying in a campground or renting a cabin for that outdoor experience you can find it. Abundance of trails can be found for outdoor hiking and exploring. The Red Cloud Loop Byway is a scenic side trip that travels through towering mountains, sandstone cliffs, rugged canyons, wildlife and sacred Indian petroglyphs as it takes you through the canyons and forests of the Uinta Mountains.
There is a wide variety of parks to help oblige your need to be outdoors. From walking, to hiking, from swimming to lying on the beach you can do all this and much much more. The Uintah Basin begs you to be outdoors! Our city parks provide scenic places to walk, picnic, or just relax. Our state parks and national monuments will show you some of the many wonders waiting to be explored. Take an educational stroll through millions of years of history and soak in the amazing scenic beauty.
Water Sports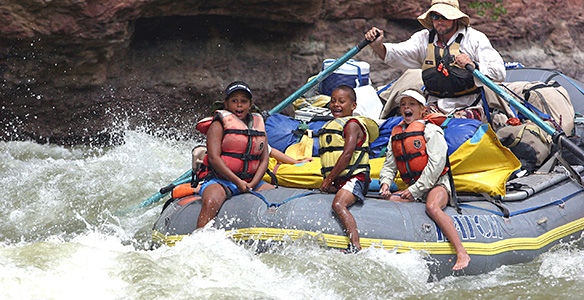 White-water river rafting on the Green River
You can really make a splash when it comes to water activities near Vernal. The Green River winds its way through the Uintah Basin carving amazing canyons. There are a variety of Lakes located within twenty minutes of Vernal. The famous Flaming Gorge Reservoir and Dam are 45 minutes from Vernal, located in the shadow of the magnificent Uintah Mountains.
White water rafting expeditions will take you along the breathtaking canyons of the Green River, through the Gates of Lodore, and along the mighty Yampa River of Colorado. Perhaps you want to float the crystal clear waters of Utah's Green River among the red rocks of the Flaming Gorge region, with amazing wildlife and incredible fishing.
Flaming Gorge Reservoir has been a popular Utah attraction for years. It is a huge reservoir providing outstanding opportunity for boating, skiing, jet skiing, houseboating and other water sports. The Gorge is also famous for big lake trout - the Utah state record weighed a whopping 51 pounds, 8 ounces. Rainbow trout, kokanee salmon, smallmouth bass and burbot are also found. The Green River below Flaming Gorge Dam is a renowned for brown trout. Steinaker Reservoir is the perfect place to fish for rainbow trout and largemouth bass, and enjoy sandy beaches, swim, boat, and waterskiing.
Offroading: Dirt Biking, ATVs/UTVs, Snowmobiling, etc.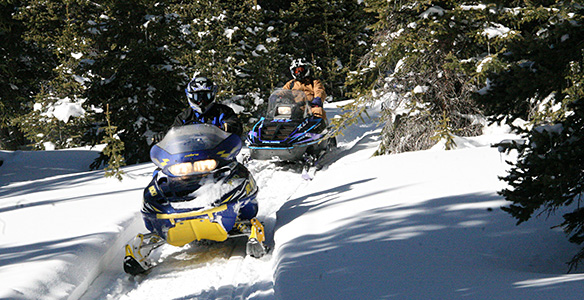 Snowmobiling at Dry Fork
The Uintah Basin is perfect for the outdoor enthusiast. Whether you prefer the back trails on a mountain bike, the powdery snow of the forest or the adventure on the many designated trails with your ATV, Vernal is the place to find them. There are miles of trails beckoning both the novice and hard-core biking enthusiast.
---
City Life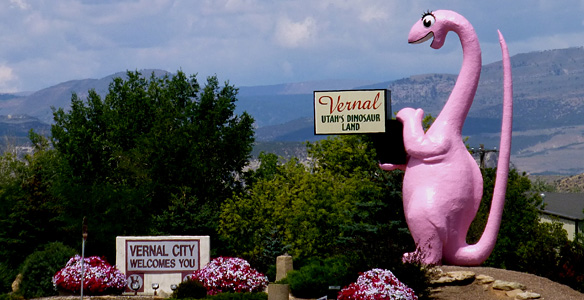 Welcome to Vernal, Utah
When you say "Vernal" to most Utahns, the word that often comes to mind is "dinosaurs." Vernal is close to Dinosaur National Monument. Downtown Vernal offers the Utah Field House of Natural History State Park Museum. Vernal's Main Street flower display all summer is miles and miles of fantasy.
Museums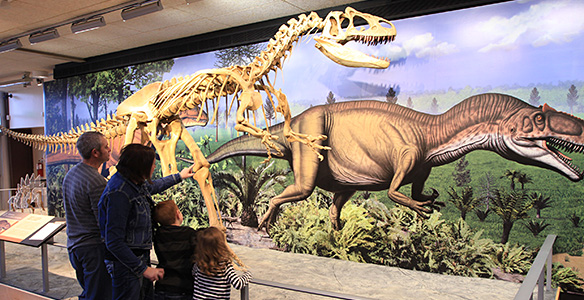 Explore Dinosaurland with your family
Time travel is possible in Vernal! Visit our museum of natural history and travel back to prehistoric times. Keep a watch out for the dinosaurs! Visit our Western Heritage Museum or The Daughters of the Utah Pioneers Museum and take a trip to yesteryear in the old west!
Utah Field House of Natural History State Park Museum: Utah's newest dinosaur museum and dinosaur park, the Utah Field House of Natural History State Park Museum opened in June 2004. New exhibits and displays cover the 22,000-square-foot facility, inside and out. Vivid murals and tile floors help visitors connect geological time to real-time places in Vernal. Life-size replicas of dinosaurs peek into the museum through windows looking out onto the new Dinosaur Gardens. Curious visitors, both young and old, can do their own investigating with books, models, puzzles, and bones and chisels. Try your hand at fossil hunting and see how a real paleontologist works. learn more
Uintah County Heritage Museum: Features displays of the pioneers, Native American Indians, miners, soldiers, lawmen and outlaws who helped shape the history of the Uintah Basin.
Daughter of the Utah Pioneer Museum: Displays historic artifacts from the early settlers and Fremont and Ute Indians. The museum is housed in the first tithing office in Uintah County, a rock building erected in 1887 by the Uintah Stake of the LDS Church. Located across the street from the Vernal LDS Temple, the museum showcases artifacts, pictures and history of the area from the mid-1800s. Open June through August, Wednesday – Saturday 10 a.m. to 4 p.m.
Shopping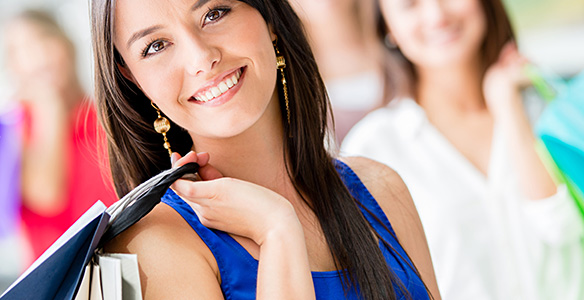 You cannot leave Vernal empty handed! Vernal offers boutiques, retail stores, and malls for the discerning shopper. You can find the perfect gift or souvenir for those you left at home. There are shops to satisfy the bargain hunter or the big spender alike. We have salons, sporting goods, fabrics, fashions, footwear and much more. Downtown Vernal is located within walking distance of the Uintah Conference Center and offers many shopping selections.
Dining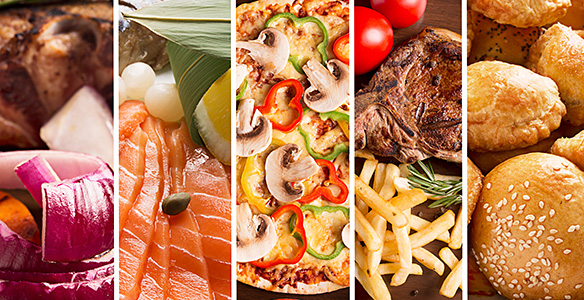 Guess who is coming to dinner? YOU! Vernal and the surrounding area have many dining choices. Within walking distance of the Uintah Conference Center are five local restaurants featuring Mexican, Italian, and American cuisine. Within ten minutes of the center you can find an enormous array of choices to feed your appetite.
Lodging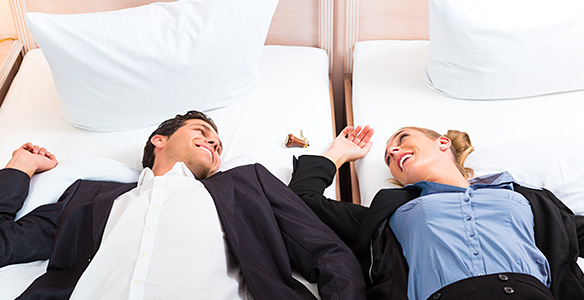 Keep yourself and your guests rested and refreshed after their activities at the conference center. Vernal has a great selection of excellent lodging choices, from basic budget habitation to luxurious upscale accomodations. Whatever your style and your budget, you'll find something to suit your needs during your stay here.